Korean Studies Specialized DB Service
Korean studies Online DB Service of more than 4,000 volumes
including a series of Korean literary works
The whole DB contents free providing service
Old book exclusive original text viewer service
Hangeul translation and English (transliteration) service
DB integrated search function
In-book search function
Filtering function by the times, author
Korean Studies Date amassed for decades into Online DB
Korean Studies DB has been constructed based on the publication of vast Korean Studies (photoprint) of Kyungin Publishing Co., Ltd. amassed for more than 50 years.
Currently headed by
A Series of Korean Literary Works
published up to 3,000 volumes,
Korean Geography Custom Journal
,
Modern Eastern Asia Western Language Data Series
etc. are preparing the service.
* Main DB Construction Status
DB
Content
Remark
A Series of Korean Literary Works


(1~3,000 volumes)

Compiled 3,500 writers' works from old times to modern times
Entire 3,000 indexes
1,000 Original texts in service
A series of Korean Geography Journal


(1~400 volumes)

Compiled 466 kinds of main books related to the geography, custom and history of Korea from the end of the Chosen Dynasty to 1945
Entire 400 indexes
400 Original texts in service
Collection of Korea-Japan relation Historic Data


(1~32 volumes)

The best collection of the collection, translation and arrangement of historical data of 20,000 cases of basic data for the research of the history of Korea-Japan relation contained in <the Chronicles of Three States> <History of Goryeo Dynasty> <the Annals of the Joseon Dynasty> etc.
The Americas National Meeting Sourcebook


(1~22 volumes)

The data related to the groups pioneering the unity of Korean residents in Americas and the independence of homeland headed by Teacher Dosan Ahn Chang Ho who crossed over to USA in 1902
A series of Manmong Geography History Custom Journal


(1~200 volumes)

Photoprinted the books published by the Japanese Government –General of Korea under the period of Japanese colonial rule.
Table of contents for original text provided for free

Table of contents (Index) is provided for free!
Table of contents (Index) is provided for free!
Table of contents are provided in trees which allows understanding in three dimensional views.
Able to directly move to the original text from the table of contents.
Translations in Korean and English (transliteration) can be provided.
Supports the searching inside a book.
Easy browsing with exclusive view for original texts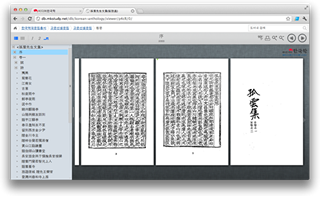 Supports browser suitable to view antique books!
Viewing options such as one page display, two page display, consecutive display, and etc. provided.
Allows zoom in and out function to suitable size.
Increase the conveniences by allow viewing of the table of contents and original text together.
Institution administrator interface provided
Allows the institute administrator to check the real time service usage.
Institution information management